Water Heater Repair Atlantic WA 
When you are needing Water Heater Repair Atlantic WA services you may considering calling us here at Joe's Plumbing & Heating Co. to assist you. Our licensed plumbers serve both residential and commercial clients throughout the Atlantic WA areas. It is our goal to assist you skilled water heater repair techs  who meet all the guidelines of the state as qualified plumbers. Joes Plumbing avoids  hidden costs and lets you know as a customer what to expect when using us for your plumbing ro water heater needs. If you are deciding on a plumber company in the Atlantic WA are to use please take into consideration the following for us.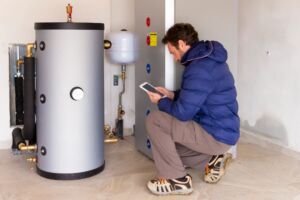 High Quality Water Heater Services 

 Customer Satisfaction 

Licensed Plumbers

Bonded

Insured 

Trained 

Not A Fly By Night Company 

Not A Huge Corporation With Huge Overhead
Joes Plumbing is dedicated to trying to be the best company we can be. When possible we can even install your water heater the same day. Our technicians also work on tankless heater services. The age of your water heater can also affect many factors. Often water heaters over 8 years old are better off possibly replacing. A typical water heater unit will last someone about 8 to 10 years. Obviously things like brand and use of the water heater also contribute to the life of water heater unit. The issue is even if you take care of your unit there comes a time when the water heater will have to go. The following are signs your water heater may need to go: 
Issues With Water Heaters In Atlantic, WA
Shortage in Hot Water 
Odor in Water
Brown or Dark Water
Leak From Top Or Bottom Of Tank
Pilot Light Turns Off And Isn't Able To Relight 
This list is not a tell all but provide good points at which to start with. even 1 of these problems can result in you needing a new water heater or at best a possible repair.
Tankless Water Heaters !
If you are considering getting a tankless heater they do in fact cost more but have their own benefits.
A tankless heater save money over time, they are more energy efficient 
 longer useful lifespan than tank water heaters
Need less storage space than a regular heater 
Unlimited hot water. Hot water is available in seconds instead of  minutes 
Good news! The Non-Business Energy Property Tax Credit has been extended through 2020 and made retroactive to cover 2019. The credit amount for Gas, Oil, Propane Water Heaters, including tankless units, is $300. ( * May Need to check state to see if still possible) See Nortiz for more info 
Disadvantages:
Tankless have a higher purchase. Sometimes $ 400 to $ 800 more.
Tankless installation typically much longer can be 6 to 8 hours vs 3 to 4 hours for regular water heater. 
Yearly flushes are recommended 
Often not as many plumbers are skilled in tankless so when an issues rises you may have to wait 
Types Of Water Heaters We Can Work On 
40 Gallon Water Heater 
50 Gallon Water Heater 
Gas & Electric Water Heaters
Tankless Water Heater 
100 gallon Water Heater 
30 Gallon Water Heater 
Pilot Light Relight 
Gas Control Valve Fixtures 
Expansion Tank Installation 
Recirculation Pumps
When the time comes for you to get the water heater repair Atlantic WA services you need call us at (206) 690-3362 and allow us to assist you with your water heater repair needs. If you would like to learn more about us at Joe's and see what other plumber services we can assist with visit our home page.